We have designed our site for you, our patron, with your needs in mind. Browse around and see all the advantages our site offers, and be sure to check out the following link:
***What's Newest : The Mercer County Library is excited to introduce a new service to our patrons. Axis 360 is an app that can be downloaded to any compatible device, such as IOS, Android and Kindle Fire. After downloading the app, patrons will need to input their library card number to create an account. Once an account is created, several book titles are available in eBook format, as well as audio books. Setup is easy, so stop in the library or give us a call so we can assist you and provide you with the information you will need to get started. Below are some links and tutorials that may help you as well. If you need assistance contact the Library at 748-3725 and ask for Paula Fagan or Aimee Kenagy.

*Click here to access AXIS 360:
http://axis360.site.baker-taylor.com/
https://www.youtube.com/user/Axis360Support
*Click below to access Overdrive:
Now available on Overdrive e-magazines (for this you will need to download the free nook app to your device).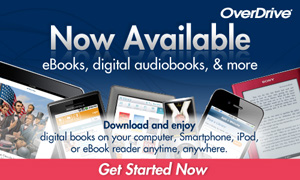 * Click below to access Tumble Books:
http://www.tumblebooklibrary.com/autologin.aspx?userid=OLCc8x4Xe84xcCflXoGaow%3d%3d
* Click below to access LearningExpress:
* Click the link below to access the library's holdings:

http://mercercounty.booksys.net/opac/mclpmo/index.html
* MCL Current Events: Check out the various activities going on in Mercer County Library!
* MCL New Book Shelf: Keep current with what's been added to your library's collection.
* Contact Us: Tell us what you'd like to see your library do for you, offer suggestions for new library materials, suggest ideas for new library programs, tell us your thoughts of our site, mention site problems -- whatever you want to tell us!