We have designed our site for you, our patron, with your needs in mind. Browse around and see all the advantages our site offers, and be sure to check out the following links:
*Click here to access AXIS 360:
http://axis360.site.baker-taylor.com/
*Click below to access Overdrive:
Now available on Overdrive e-magazines (for this you will need to download the free nook app to your device).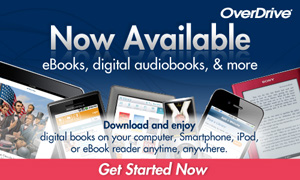 * Click below to access Tumble Books:
http://www.tumblebooklibrary.com/autologin.aspx?userid=OLCc8x4Xe84xcCflXoGaow%3d%3d
* Click below to access LearningExpress:
* Click the link below to access the library's holdings:

http://mercercounty.booksys.net/opac/mclpmo/index.html
* MCL Current Events: Check out the various activities going on in Mercer County Library!
* MCL New Book Shelf: Keep current with what's been added to your library's collection.
* Contact Us: Tell us what you'd like to see your library do for you, offer suggestions for new library materials, suggest ideas for new library programs, tell us your thoughts of our site, mention site problems -- whatever you want to tell us!